Facebook Modile Devcon - London 2013
Facebook Mobile DevCon was a great day out with plenty of informative sessions, including ones that dived into code.
Here are some notes from a few talks / sessions I attended.
How Facebook Builds Facebook for iOS
Facebook started with a web approach, which was a native app with essentially a Web View that did everything
Web Approach - HTML as an App Platform
Pros
Instant updates
A/B testing
Multi platform software development - one code base (more or less)
Cons
Frequent performance problems
No coherent multithreading strategy
Difficult memory management
Debugging and getting stack traces was difficult
Native App Approach
Advanced features like Core Animation, Core Data were used. These features require a lot of time spent on them but work great when you master them
Internally dog-fooded for 3 months
Great performance which everyone loved
Team Structure
Core team - building shared libraries, infrastructure
Product team - makes the product, on top of the shared libraries and infrastructure created by core team
Release team
Lessons Learnt / Tips
Fixed release cycle - Ship every x weeks no matter what instead of having feature releases - when working with several interdependent teams
Build features with an off switch
Development Process
Emphasis on developer velocity - from concept to shipped
You cannot break master
Make changes locally
Post changes for review BEFORE committing to master
Changes go to an open sourced tool called Phabricator for review instead of master
Automated review of code in addition to manual
arc lint
checkstyles - indentation etc
compiler warnings, deprecation messages, common errors - rules can be created
They use images like these in Phabricator as code review feedback, which I think is awesome ;)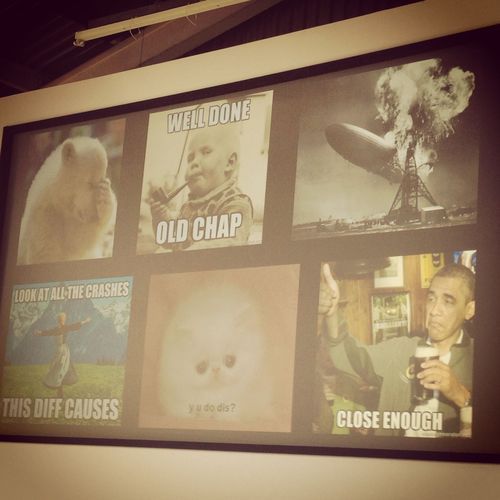 Buildbot - CI tool
Dogfood internally
uses iOS enterprise certificates
use different bundle ids and icons for different types of builds
Branching
master - experiments, feature development and stabilisation happens here
release - a tool called releeph is used. Automated merge. More analytics on size of change, churn (review comments), developer karma available here.
Testing
No "Test Engineers" or "QA" departments
TDD
Unit testing - OCMock and SenTestingKit
Unit testing on iOS is not ideal
no dependency injection
UIAutomation can use some improvement
xcodebuild not ideal - doesn't run simulator tests
xctool - open sourced by Facebook. Runs simulator tests and gives structured output amoung other improvements
Internal settings - great idea to include in any native app - to turn features on/off at runtime Iterate quickly
The Facebook SDK for iOS
FB SDK Layers
Using the SDK
FacebookDisplayName is new plist entry in v3.5 and weird things happen if you don't have this. Debugging can be hard. So make sure this is there
Login - OS integrated
FB share - default text cannot be added automatically. User has to add it. Most common policy violation
Sharing is important
Options

Native iOS 6 share sheet. Only works when someone has FB configured as an account on their iOS device.
Native share dialog using FB app already installed. Uses Fast app switch.
Native share with openGraph - you can use your own interface with this option
Deep linking - Drives growth of your app
Take a user direct into your app and onto the story they shared from the Facebook app
Facebook Login - Best Practices
Don't randomly ask for permissions. Instead ask when the user is in the mindset to give you permissions. For example, when a user first decides to post, ask for write permissions.

Tweet